Dictionary APIs
We provide bilingual Dictionary APIs with extensive support for Indian languages and English. These APIs can be a great addition to your digital products and services!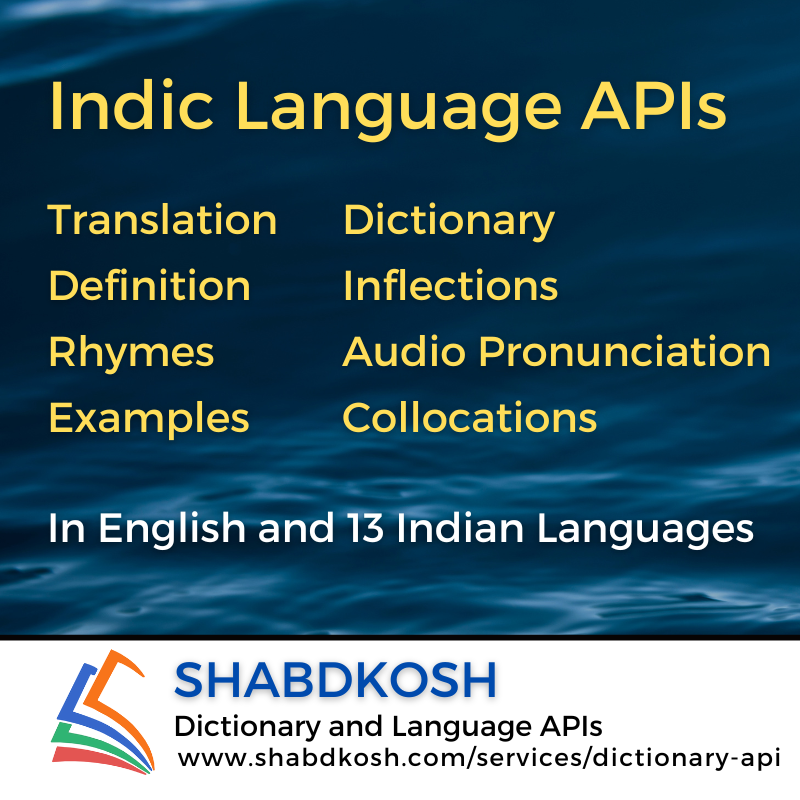 Features
English and 13 Indian languages. Our data is the most comprehensive you will get anywhere, with support for Bengali, Gujarati, Hindi, Kannada, Konkani, Malayalam, Marathi, Oriya, Punjabi, Sanskrit, Tamil, Telugu and Urdu.

JSON compatible program languages We support Python, PHP, Javascript, Swift, Java, Node, C#, Go and any other modern language.

Comprehensive API Endpoints The API endpoints are available for Words, Bilingual Dictionary, Example sentences, Definitions, Audio Pronunciations, Rhymes, Conjugation, Synonyms, Antonyms and more.

Inflections We also support inflections in multiple Indian languages, as well as English.
JSON Format
The APIs provide JSON output which can be easily integrated into your app - Web App, Mobiles Apps on Android/iOS, Desktop Apps on Windows or MacOS, and even in cross platform apps.
Access Model
The standard model followed by our apps is to use Bearer Tokens that are tied to your apps and your organization.
Performance
Our APIs are served over the open internet and using dedicated server infrastructure that is accelerated by best-in-class and time-tested technologies. We routinely monitor the performance to make sure you get the best.
Best in class corpus
Our data is relied upon by government agencies, educational institutions, translators, and students for over 19 years!
Getting Started
The best way to get started is to reach out to us where we can demonstrate our APIs to you and answer any questions you may have. Based on the conclusion, we can help you get started, or see if you need a custom solution for your application. We have about two decades of experience in operating the world's leading Indian language platform and we are sure we would be able to help you.
---
---