Origin of Sanskrit
Sanskrit might be an old language, but it still is a very important one. Learning Sanskrit helps understand old scripts and writings. Read this article to know about its origin.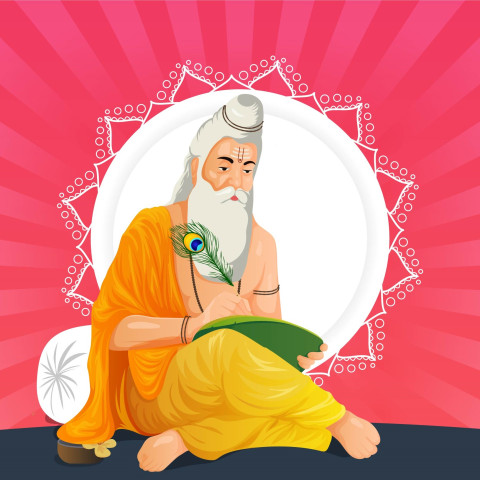 Sanskrit is considered as an ancient language in Hinduism, where it was used for communication by Hindu Gods and then the people of Indo-Aryans. The term Sanskrit is derived by combining 'Sam' which means 'entirely' and 'krit' which means 'done'. It is an extraordinary language with a vast vocabulary. It is widely used even today for reading hymns and sacred texts. Sanskrit is also taught in schools as an additional language.
Sanskrit is the primary sacred language of Hinduism, and has been used as a philosophical language in the religions of Hinduism, Buddhism, and Jainism. Sanskrit is a standardized dialect of Old Indo-Aryan, originating as Vedic Sanskrit.
Sanskrit literature began with the spoken and sung literature from 1500 BCE onward. At approximately 1000 BCE, Vedic Sanskrit began transformation from a first language to a second language of religion and learning. Vedic Sanskrit is classified into two periods, Vedic and Classical.
The Vedic
Vedic Sanskrit is found in Vedas and sacred texts like in Rig Veda, the Puranas and the Upanishads. This early Sanskrit is rich in vocabulary, grammar and phonology. The Sanskrit language was not only a means of communication in Hinduism but also Jainism, Buddhism and Sikhism. Sanskrit also has hundreds of words to express a single meaning or object. Knowledge of Sanskrit became a marker of high social class during the Vedic period.
The Classical
Classical Sanskrit has its origin at the end of the Vedic period. After which Panini, a grammar linguist and researcher, introduced his work, Ashthadhyayi. He is the one responsible for the standardization of the language which to this day remains in use in multiple forms. In the modern world, Sanskrit is used in bhajans, shlokas, stotras, all which indicates hymns to the God, songs of God worship.
Impact on other languages
Sanskrit has its impact on many languages, especially Hindi and Indo-Aryan languages such as Kannada and Malayalam, these are also included in the country's official languages. It also has a long history often traced back to Gods. In spite of its large vocabulary and richness in grammar, many ancient scripts are translated from Sanskrit.
Today, Sanskrit is still used in India. More than 3,000 words have been composed since India became independent in the year 1947. Sudharma, a daily newspaper written in Sanskrit, has been published in India even today since 1970. Carnatic and Hindustani classical music uses Sanskrit and it also continues to be used in Hindu temples as well as Buddhist and Jain temples for Bhajans and Keertans.
---
---
---
Explore
Related Articles